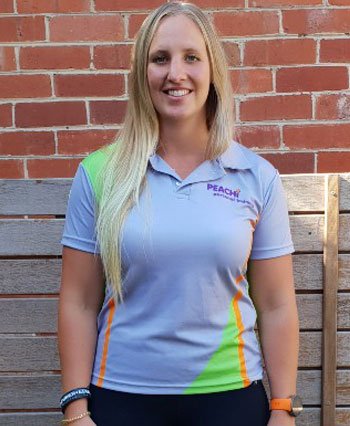 Business Owner & Functional Movement Coach
As a competitive swimmer for over 10 years, fitness has always been my focus and passion. With intentions to complete a law degree, for me PT was planned to be a flexible job to get me through all the years of studying ahead, but it didn't take me long to realise personal training and fitness needed to be my career, not just a casual job!
After completing Certificate III and IV in Fitness at the beginning of 2009 I worked in a PT studio for over two years before starting up Peachi Personal Training in 2011. I have since completed a Bachelor in Exercise and Sport Science at Deakin University, and earned my Master Functional Trainer certification with the Functional Training Institute.
Over 9 years experience as a PT coupled with my extensive continued education has allowed me to develop a great depth of knowledge on the human body and exercise. I love that the health and fitness industry is ever-evolving – there are constantly opportunities to learn and develop new skills, and ways to improve the body and our movement. Through Peachi PT I strive to motivate others to build and maintain a healthy lifestyle, and to make exercise something our community can enjoy and feel good about every day!
Credentials
Bachelor in Exercise and Sport Science (majoring in exercise physiology)
Master Functional Trainer, certified in:

Functional Mobility
Powerbags
 Kettlebells (Level 1 & 2)
Battling Ropes
Crankit Suspension Training

Certificate in Nutrition
Certificate III & IV in Fitness
Strength & Conditioning Coach
Sport and fitness have been a major part of my life ever since I was a kid, playing multiple sports throughout my life including cricket, footy, soccer and tennis. Because of this I knew early on that I wanted to turn that passion into a career. This led me to studying Exercise and Sport Science at Deakin University, which I completed in 2017 and included an exchange semester in the USA.
During my final year of my degree I began to work as a coach here at Peachi PT and I felt like I was a part of the community almost immediately. My aim at Peachi is to help all current and future members achieve their health and fitness goals by creating healthy habits that are founded through regular exercise. There is no greater feeling as a coach than seeing a client accomplish the goals that they have worked so hard to reach!
I am always looking to improve my ability as a coach and plan do this by taking on education to become accredited with the Australian Strength & Conditioning association and the Functional Training Institute.
Credentials
Bachelor in Exercise and Sport Science (majoring in exercise physiology)
Level 1 Sports Trainer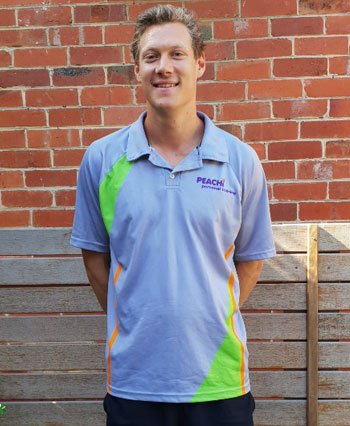 Strength & Conditioning Coach
Growing up playing soccer, footy and cricket instilled in me the importance of leading an active and healthy lifestyle from a young age. As I progressed through to more competitive levels, I gained an appreciation and understanding of the importance of the preparation required to succeed. This led to spending more time building strength in the gym and doing extra training to give myself the best opportunity. As I grew up I realised it wasn't all about winning, but how much better I felt when I was fit and exercising regularly.
Due to my strong sport background I always wanted to learn more about exercise and how to maximise potential, setting me on a path to studying Exercise and Sport Science at Deakin University. I then completed my placement at Peachi PT and have continued working there, learning new things everyday through the quality of coaching and mentoring received there.
The Peachi environment drives success and hard work, always looking for both clients and coaches to improve themselves through creating a healthy lifestyle. Professional development is a priority for my coaching, always looking to further my knowledge and expertise to ensure the clients are receiving a high level of coaching.

14 Day

Peachi Trial for

only $97
All included for only $97
A movement assessment
one-on-one session
4 shared PT sessions
Unlimited Group Class access
* This promotion in an introductory offer valid for first time customers only